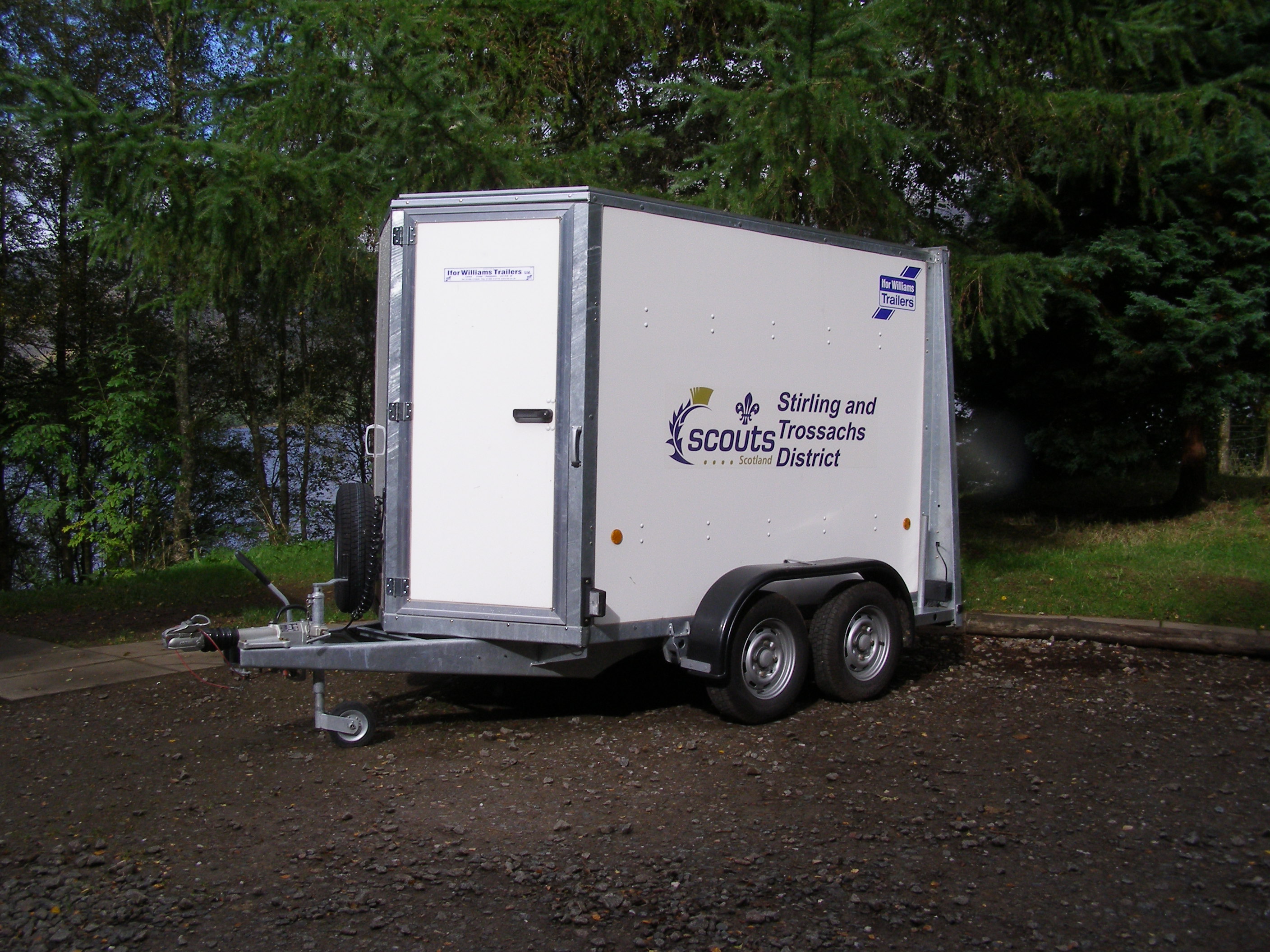 The District has purchased a box trailer through the Awards for All grants scheme, which is available to all groups and sections to use. It is suitable for carrying most equipment, including bikes. Arrangements and conditions for use are detailed below.
Bookings are on a first come basis.
Trailer details
Ifor Williams box trailer, twin axle, braked, with roller door.
Box size: 2400mm long x 1470mm wide x 1830mm high
Overall dimensions: 4100mm x 2100mm x 2350mm
Unladen weight 675 kg
Maximum laden weight 2700 kg
Bookings through David Wilson (GSL, 7th Beechwood)
Tel: 01786 447045
Email: This email address is being protected from spambots. You need JavaScript enabled to view it.
Trailer stored at Beechwood Scout Centre, Newhouse, Stirling. FK8 2AE
Cost of use
None. Cost of minor, non-insurance repairs to any damage, punctures etc. are the responsibility of the person/scout group using the trailer. If repairs are required to be carried out under the insurance, the user at the time the damage occurred will be liable to pay the excess.
Insurance
District insurance covers the trailer at all times, i.e. whilst attached and detached from a vehicle. It does not provide Liability cover for the trailer, i.e. if, whilst attached to a vehicle it swings out and hits a third party vehicle, the damage to the trailer will be insured by the policy but damage to the third party is not.
Contents are not covered at any time.
Towing
The ability to tow a caravan or trailer depends on the driving license you hold*. The category entitlement on your driving license will determine the size and weight of trailer you can tow. The trailer capacity of 2000 kg will normally exceed the permitted towing weight for most vehicles; therefore beware of overloading. Vehicle manufacturers normally recommend a maximum towing weight appropriate to their vehicle.
If you are carrying passengers in your car whilst towing, this affects the maximum towing weight.